Customizable and Space-Efficient - Pigeon Hole Rack
Plannco Steel Products Pvt. Ltd., based in New Delhi, is your trusted partner for top-quality storage solutions. We are also enlisted as one of the dependable Pigeon Hole Rack manufacturers and suppliers in India. Among our extensive range of products, we take immense pride in offering the versatile and practical Pigeon Hole Rack. This specialized storage solution is designed to meet the unique organizational needs of both homes and businesses.
Our Pigeon Hole Rack is manufactured with precision and built to last. Crafted from high-grade steel, it ensures long-term durability and steadfast support for your belongings. The sturdy construction guarantees that it can withstand the test of time and heavy usage.
At Plannco Steel Products Pvt. Ltd., we understand that every space is different. That's why our Pigeon Hole Rack is fully customizable, allowing you to choose the number of pigeon holes and the size, ensuring a perfect fit for your specific requirements. Whether you need a compact unit for your home office or a sprawling solution for a commercial warehouse, we've got you covered.
The Pigeon Hole Rack is a godsend for anyone looking to keep the space neat and organized. With its multiple compartments, it's ideal for sorting and storing items like books, files, tools, or even personal collectibles. This rack is not only functional but also a stylish addition to any room, thanks to its sleek design and impeccable finish.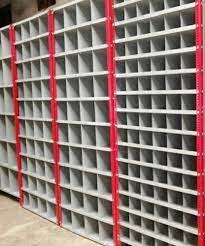 Copyright © 2023 Plannco Steel Product Pvt. Ltd. | All Rights Reserved. | All Rights Reserved.