Counted Among Top 5
Slotted Angle Rack Manufacturers in Delhi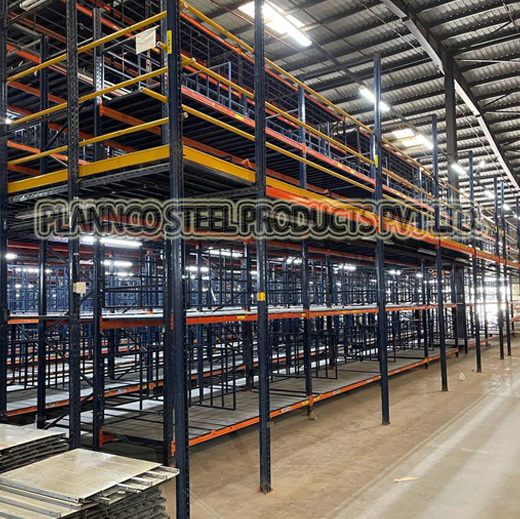 Plannco Steel Products Pvt. Ltd. stands as a pioneering force in the domain of industrial storage solutions, established in the thriving metropolis of New Delhi, India, since 1998. With over two decades of unwavering commitment to excellence, we have emerged as one of the forefront manufacturers and suppliers of a diverse range of storage solutions that cater to the dynamic needs of businesses across various industries. Our extensive product line includes Slotted Angle Racks, Pallet Racks, Mezzanine Floors, and a plethora of other storage systems designed to optimize space and enhance operational efficiency.
Cutting-Edge Infrastructure
At Plannco Steel, we pride ourselves on our state-of-the-art manufacturing facility. Equipped with advanced technology and machinery, we have the capacity to produce a wide range of storage systems that meet the highest industry standards. Our modern infrastructure allows us to efficiently cater to the demands of our clients and deliver products that are not only reliable but also cost-effective.
In-House Manufacturing Excellence
One of our major strengths lies in our in-house manufacturing facility. We control the entire production process from design to delivery, ensuring precision, quality, and timely execution. This vertical integration allows us to customize solutions to suit the unique requirements of our clients. With our dedicated team of experts, we transform raw materials into innovative storage systems, from Slotted Angle Racks to Mezzanine Floors.
Stringent Quality Checks
Quality is the cornerstone of our operations. Plannco Steel's commitment to excellence is evident through our rigorous quality control measures. Every product that leaves our facility undergoes a series of stringent quality checks to ensure it meets our high standards. From material sourcing to the final product, quality is ingrained in our manufacturing process. This commitment has earned us the trust of our clients, both in India and beyond.
Expert Team
Our experienced and dedicated team is the driving force behind our success. Comprising engineers, designers, and skilled labor, our workforce is not just well-versed in industry trends but also deeply committed to customer satisfaction. We value the expertise and passion of our team, which allows us to consistently deliver superior storage solutions to our customers.
Plannco Steel Products Pvt. Ltd. offers a vast product portfolio, including Slotted Angle Racks, Industrial Storage Systems, Mezzanine Floors, Pallet Racks, and more. Our comprehensive range encompasses innovative solutions that cater to a variety of sectors, from retail and superstores to heavy-duty industrial warehouses. We take pride in our ability to provide versatile, cost-effective, and durable storage solutions, making us the preferred choice for businesses seeking to optimize the space and streamline the operations.
Plannco Steel Products Pvt. Ltd. is a name synonymous with quality, innovation, and customer-centric solutions. Our focus on infrastructure, in-house manufacturing, stringent quality checks, and a dedicated team has made us a leading player in the industry. We are committed to empowering our clients by enhancing the storage capabilities and operational efficiency. Whether you require a Slotted Angle Rack or a sophisticated Mezzanine Floor, we have the expertise and experience to deliver excellence. Plannco Steel - Empowering Spaces, Enhancing Efficiency.

Nature of Business
Manufacturer Unit

Year of Establishment
1998

Total Number of Employees
50 to 100 People

Legal Status of Firm
Limited Company (Ltd./Pvt.Ltd.)
Annual Turnover
Rs. 10 - 15 Crore

GST Number
07AANCP2792E1Z5
Copyright © 2023 Plannco Steel Product Pvt. Ltd. | All Rights Reserved. | All Rights Reserved.