Top Cold Storage Mezzanine Floor Manufacturers in India
Plannco Steel Products Pvt. Ltd., a leading name among cold storage solutions, proudly presents the innovative Cold Storage Mezzanine Floor. Designed to optimize storage space in your cold storage facility, our mezzanine floors are crafted with precision and care, ensuring durability and reliability. Based in New Delhi, we are one of the renowned manufacturers and suppliers of these cutting-edge solutions, committed to providing top-notch quality to our valued customers.
Our Cold Storage Mezzanine Floors are engineered to meet the specific demands of the cold storage industry. Crafted from robust materials, these offer exceptional strength and resilience to withstand the challenging conditions of a cold storage environment. These floors provide an additional level of storage, effectively doubling your available space without the need for costly expansions or relocations. With Plannco Steel's mezzanine floors, you'll experience a seamless workflow, improved organization, and enhanced accessibility, ultimately leading to increased operational efficiency.
At Plannco Steel, we understand that every cold storage facility is unique. That's why our mezzanine floors are highly customizable to suit your specific requirements. From size and layout to load-bearing capacity, we tailor each floor to ensure it seamlessly integrates with your existing setup. Moreover, safety is our top priority. Our mezzanine floors are designed with state-of-the-art features, including anti-slip surfaces, sturdy railings, and advanced load-bearing capacities, providing a secure environment for your staff and valuable inventory.
With a solid reputation in the industry, Plannco Steel Products Pvt. Ltd. has been at the forefront of delivering exceptional cold storage solutions. Our Cold Storage Mezzanine Floors exemplify our commitment to quality, durability, and customer satisfaction. Partner with us, and experience a transformative upgrade in your cold storage operations. Contact us today, and let our experts assist you in finding the perfect mezzanine floor solution for your unique needs. Elevate your storage capacity with Plannco Steel!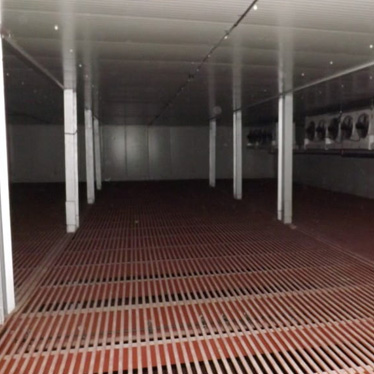 Copyright © 2023 Plannco Steel Product Pvt. Ltd. | All Rights Reserved. | All Rights Reserved.